Once in a great while an opportunity to "get inside the head" of the folks who are about to referee and assess a professional match comes around. Such an opportunity is here.

On Saturday August 28th, prior to the Revs v. Philly match, The Massachusetts State Referee Committee in cooperation with the New England Revolution will provide such an opportunity to the Massachusetts refereeing community at large.

This session will include clubhouse access prior to the match and involve a discussion what the referee team and assessor will prepare, and be on the lookout for during the match. Guest speakers will include various staff members of the MSRC along with and anticipated visit from an MLS referee and the In Stadium Observer (ISO) for the match.

Note that this interactive session will also qualify to meet the referee re-certification requirements of 2011 and on the lighter side will also feature the Rev Girls and some giveaways.

During the match, participants will sit in the stands and be invited to perform an analysis that will be submitted to MSRC. Kicking Back is in discussion with the MSRC to see if there is a way to anonymously post appropriate results here from the "group assessment" for educational purposes.

Full details are below, and more are forthcoming in the days ahead via E-Mail blasts from the MSRC and at massref.net.

For those who can not make it, Kicking Back will do a pre-match analysis here on the 27th, and also be reporting on the evenings events. However, seeing is believing.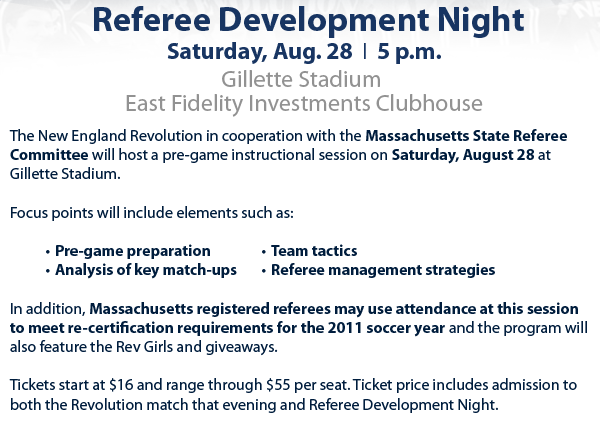 For tickets, call 1-877-GET-REVS and reference "Referee Development Night" to access discount.