I should have shown Nigel de Jong a red card, says Howard Webb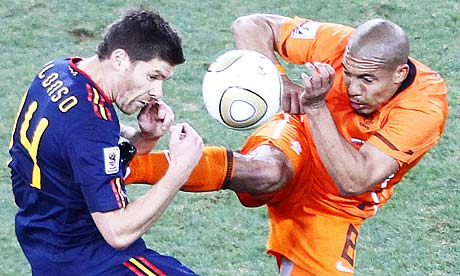 Photograph: Kim Ludbrook/EPA
When Howard Webb took the field for the World Cup final at Soccer City last month, he was cheered by the sight of a small banner amid all the orange and red, the flags and the vuvuzelas, a message of support from home, no less. "It must have been English," he recalled. "It simply said: Can't play, can ref."
That statement was to be tested in Johannesburg in a way that nobody could ever have imagined, with Webb issuing 14 yellow cards. "On the day of the final we had several briefings from Fifa technical and psychological staff, and I don't think anyone foresaw the game being the physical encounter it turned out to be. We talked about the emotion, the styles of play, but no one said anything about it being so physical. ...
Masterful article continues
here
, courtesy of guardian.co.uk.